We are Manufacturer, Supplier, Exporter of Continuous Centrifugal Machine Automation from Miraj, Sangli, Maharashtra, India.
Continuous Centrifugal Machine Automation
Salient Features:
• Constant Load on the Machine Basket Drive results in Constant Machine Operation and Optimum Current Consumption of the Drive Motor thus Saving Power and Maximizing Capacity Utilization at the Same Time.
• Constant Load on the Machine Basket results in Improved Purity as well as Increased Throughput at the same time.
• Uniform flow of Massecuite results in Water and Steam Saving.
• Concentric Material Intake Ensures Proper Basket Balance thus Elimination of Basket Unbalance reduces Wear and Tear.
• Higher Capacity Utilization of Continuous Centrifugal Machines and Operational life improvement and Reduced Cost of Ownership.
• Eliminates Human Errors, Overflows and Stoppages therefore termed "STOP LOSS AUTOMATION".
• Power Saving of up to 20% for total Massecuite Curing. Very Attractive pay back.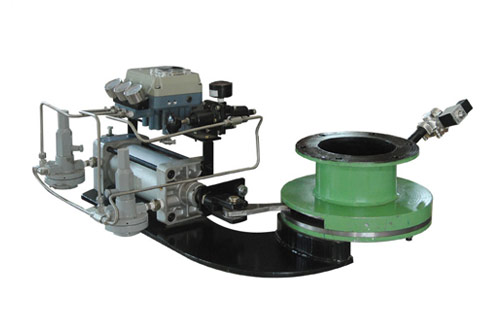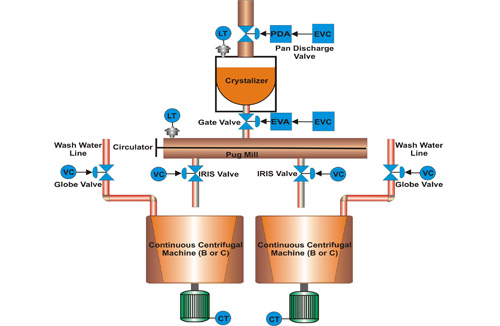 • Central Opening Concentric Operation
• Pneumatically Actuated
• Electronic Positioner
• Input: 4 - 20 mA

Application:
• Perfect Solution for Centrifugal Machine Massecuite intake. As the opening is Concentric, the Massecuite falls exactly in the center without spilling or splattering.

IRIS Valve Control:
• Control Action: PID with respect to Centrifugal Machine Load.
• Manual Over-ride provided.
• Enclosure: CPU is Din Rail Mounted and Display is 96 DIN installed in Rittal Field Mounted IP55 Panel Box.
• Optional: Wash Water Control with respect to Centrifugal Machine Load.

Advantages:
• Huge Power and Water Saving due to Controlled intake of Water.
• Facilitate Optimum Capacity Utilization.