We are Manufacturer, Supplier, Exporter of Condenser Automation from Miraj, Sangli, Maharashtra, India.
The Purpose of Condenser Automation
• Save Electricity
• Save Water
• Increase Work Efficiency
• Reduce Human Errors
• Reduce Production Costs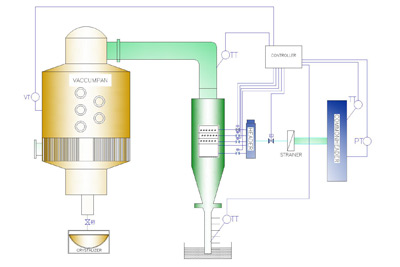 Condenser Automation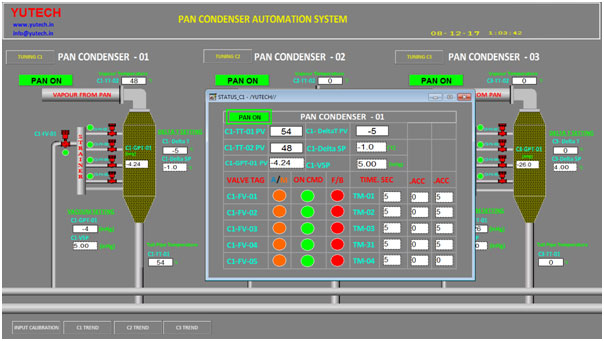 Condenser Automation
Condenser Automation:
• Multiple Entry Condenser Box.
• Separate Water Entry for Different Sets of Spray Nozzles and Spray Jet and Water Quantity is Automatically Controlled to by ON/OFF Valve for Respective Nozzle Set Valve wrt Vacuum.
• Number of Jets & Nozzles and Jet & Nozzle Diameters designed as per Condenser Capacity.
• Complete Stainless Steel Construction, Strainer provided for each Condenser Header.
• Water Pressure in the Common Injection Header maintained by Controlling Injection Pump VFD.
• Jet Compartment Controlled by Separate Valve.
• Vapour and Tail Pipe Temperature Measured.

Principle:
• As Massecuite Level in Pan rises, Rate of Evaporation Reduces and therefore Water Quantity required to create Vacuum also reduces. Thus any Extra Water used after this point is a Wastage.
• Condenser Automation facilitates Required Vacuum Generation using just Optimum Water and Power, thus reducing Wastage of Excess Energy and Water.
• Temperature difference between Vapour and Vapour-Condensate also affects Vacuum Generation and so does the Injection Water Temperature which varies as per Ambient.

Purpose:
• Huge Power and Water Saving due to Controlled intake of Water.
• Facilitate Optimum Capacity Utilization.